What is SMART GLASS?
Smart glass, intelligent glass, changeable glass, energized glass and much more are called. The technology is not new, but actually invented back in 2004. In short, smart glass allows you to matte and make glass transparent in one and the same solution using a remote control.
In Europe, it has been difficult to get hold of the glass, as it is incredibly difficult to work with and requires many work processes. It takes 4 employees to produce a single piece of glass. Dust in the laboratory, temperature, humidity, technical installations, installation of the various components and much more must be monitored.
This naturally results in the price being a problem as well, as it has been incredibly expensive for the few suppliers worldwide to master and at the same time be able to find customers to pay for it. We have now tried to change that by offering it at the best prices in Europe and at the same time do a lot to make it relatable and easy for you as a customer to gain insight into the whole process behind it.
What is SMART GLASS made of?
Smart glass, of course, consists of glass. The type of glass differs from time to time, as we adapt our solutions to each customer's needs and offer all types of glass with smart functions. However, a solid part of smart glass is always polymer, liquid crystal, indium tin oxide coated polyethylene terephthalate film (also called ITO-pet film) and ethylene vinyl acetate film (also called EVA film).
The physics behind the technical
In its natural state, its internal liquid crystal polymer arrangement is irregular. The incident light is scattered in the polymer and the glass becomes opaque. After electrification, the crystal polymer is rearranged from irregular to regular and the incident light can now pass through and the glass is transparent.
The mode of the smart glass is integrated and coupled with remote controlled elements, which can be switch or remote control. However, we are also working on making an app for smartphones that is expected to be completed during 2022.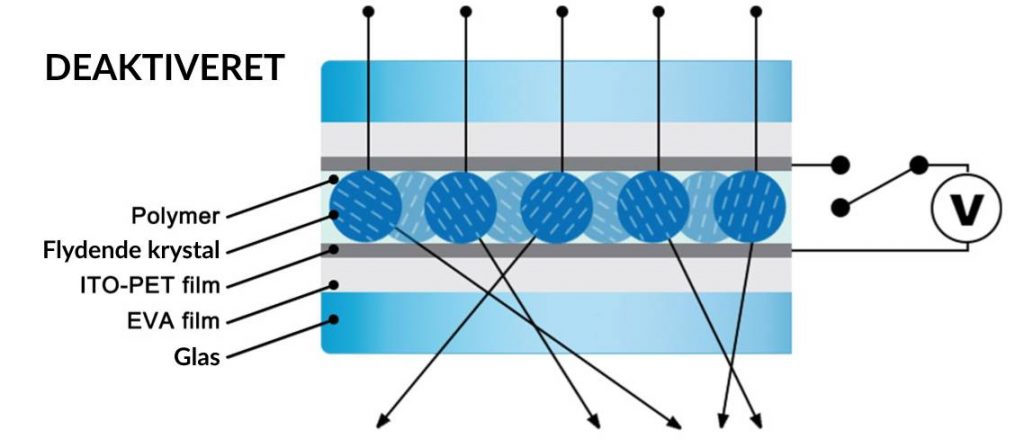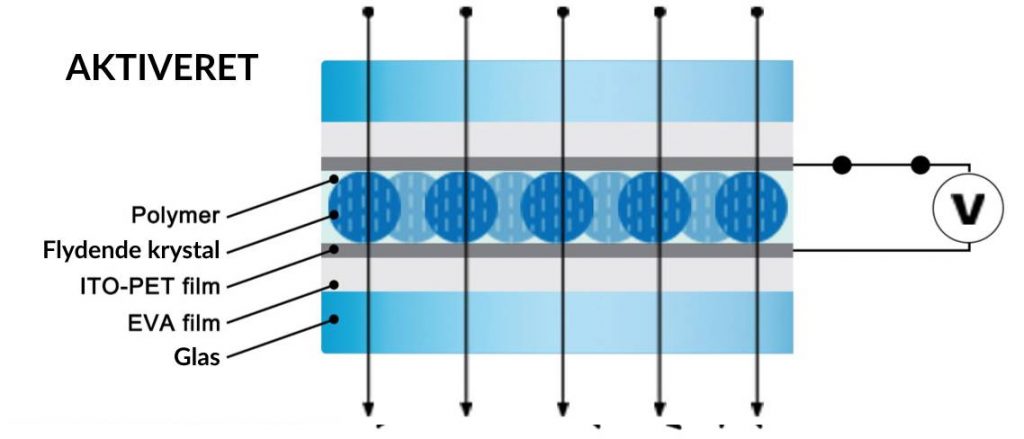 SMART GLASS power consumption
Power consumption has been a big topic when talking smart glass. When power is not connected, smart glass will be frosted so you can not see through the glass. When power is connected, smart glass will become transparent.
In the past, electricity consumption has been a major issue, as we have high electricity prices in the Nordic region and generally have a significant impact on the environment. Smart glass must be a better and smarter alternative to the houses of the future and therefore it has been important for us to reduce consumption and make it attractive to the general public.
Power consumption as everyone understands
Our smart glass uses 6 watts per. sqm / hour. It can be compared and better understood by comparing a bulb in the home, which is typically a 60 watt bulb. A 60 watt bulb uses 60 watts per. hour. So you can compare the consumption by taking a tenth of your normal light bulb, which is 6 watts and multiplying it per. sqm. smart glass you want.
For example, if you want a door in the dimensions 210 x 90 cm, which is usually the standard. Then you need to find the square meter number by saying 2.10 x 0.9 = 1.89 sqm. This means that your door with smart glass will use 1.89 x 6 watts per. time = 11.34 watts pr. hour it is transparent.
To cut it out of cardboard, you must have 5 doors activated with smart glass before consumption is the same as a regular light bulb. When activated, it is meant that the doors are transparent and not matted. If the doors are matted, they do not use electricity. You can calculate your smart glass price by filling in our price calculator and entering height and width measurements.
Price calculator
Calculate the price by entering goals and selecting wishes
Technical information
Get to know the technical part about SMART GLASS
References and cases
See finished SMART GLASS installations at customers Niels Bendix
Absolutely nothing negative to say. Top service, fast delivery and super quality. Highly recommended. Tobias Brodersen
The entire team behind is top professionals and is ready with advice on the best smart glass solution. Michael Pedersen
Good experience from start to finish. Right from idea to finished solution, which gave us a nice and unique result. Ditte Riis Pedersen
Now keep up the good work at SMART GLAS. The warmest recommendations from here me, 5 stars.